Please leave the instagram alone, but feel free to tweet, facebook or ask Emelia by editing the page!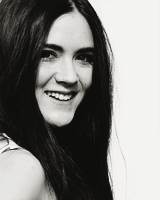 Emelia Dalca (@TheAceOfKnives)
I'm a Romanian girl with many a messed up hobby, including throwing knives and burning trains. Often misunderstood. I'm a bit screwed up so expect screwed up answers. I'm a fourth year Vorobyov and one fifth of the Aces. In a relationship at the moment.
---
What is your greatest fear?
Do I really have to, anon? I can hear your voice telling me I do. It's killing someone close to me by accident.
Who's your guy then?
Ugh, I thought everyone knew that. Cristi. You probably just wanted to see it again. Eca... I do hope you aren't the anon behind this question.
A song that makes you remember yourself?
Set The World On Fire all the way. Fight for all you know, when your back's against the wall, stand against the liars, stronger than before, when your life becomes a war set the world on fire!
Favourite Songs?
Ma Cherie, Set The World On Fire, Into The Night, and Nobody's Hero.
What's the best thing that has ever happened to you?
The best thing? Ooh, thanks for this one. Meeting @TheAcesOfHearts, @TheAceOfDiamonds and @TheAceOfClubs - aka the Aces.
What's the best thing about your mum?
She doesn't tell me off quite as much as my father does. She was all for the train stunt, I got an owl from her afterwards.
What is the nicest thing anyone ever said to you? And who said it?
What your day today?
What do you hope you'll be or do when you're older?
How old were you the first time you got properly drunk?
Ad blocker interference detected!
Wikia is a free-to-use site that makes money from advertising. We have a modified experience for viewers using ad blockers

Wikia is not accessible if you've made further modifications. Remove the custom ad blocker rule(s) and the page will load as expected.